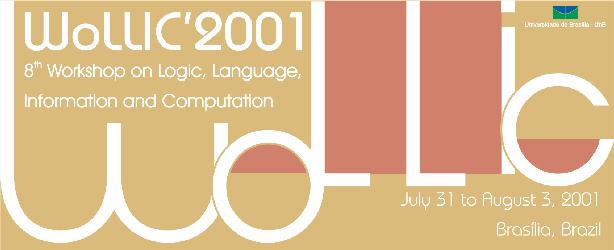 WoLLIC'2001
8th Workshop on Logic, Language, Information and Computation
July 31 to August 3, 2001

Brasília, Brazil
Scientific Sponsorship
Interest Group in Pure and Applied Logics (IGPL)
European Association for Logic, Language and Information (FoLLI)
Association for Symbolic Logic (ASL)
Sociedade Brasileira de Computação (SBC)
Sociedade Brasileira de Lógica (SBL)
Organisation
Centro de Informática, Universidade Federal de Pernambuco (CIn-UFPE)
Departamento de Matemática, Universidade de Brasília (MAT-UnB)

---
General Information
---
Venue
The meeting will take place at
Auditório da Reitoria da Universidade de Brasília located in the campus of the University of Brasília.

(Here is an index of locations inside the campus of the Universidade de Brasília (UnB). Click on "Reitoria" to see a map and locate the conference venue, i.e. Auditório da Reitoria.)

Accommodation
Hotel Nacional
Setor Hoteleiro Sul, Quadra 1, Bloco A
70322-900 Brasília D.F., Brazil
Tel/Fax ++55 61 321 7575 / ++55 61 223 9213
e-mail hotelnacional@hotelnacional.com.br

Room Type
Price per night
Price special per night for WoLLIC'2001 participants
Single
R$??
R$125,00
Double
R$??
R$140,00
Add 10% Taxes

Carlton Hotel Brasília
Setor Hoteleiro Sul, Quadra 5, Bloco G
70322-913 Brasília D.F., Brazil
Tel/Fax ++55 61 224 8819 / ++55 61 226 8109
e-mail carlton@tba.com.br

Room Type
Price per night
Price special per night for WoLLIC'2001 participants
Single
R$260,00
R$140,00
Double
R$285,00
R$160,00
Add 10% Taxes

Torre Palace Hotel
Setor Hoteleiro Norte, Quadra 4, Bloco A
70710-300 Brasilia DF, Brazil
Tel/Fax ++55 61 328 5554/ ++55 61 326 1042
e-mail reserva@torrepalace.com.br

Room Type
Price per night
Single
R$90,00
Double
R$112,00
Add 10% Taxes

Bristol Hotel Brasília
Setor Hoteleiro Sul, Quadra 4, Bloco F
70300-300 Brasília D.F., Brazil
Tel/Fax ++55 61 321 6162 / ++55 61 321 2690
e-mail bristolh@tba.com.br

Room Type
Price per night
Price special per night for WoLLIC'2001 participants
Single
R$126,00
R$111,00
Double
R$155,00
R$136,00
Add 10% Taxes

Hostelling International
Albergue da Juventude de Brasilia
Setor de Areas Isoladas Norte Camping de Brasilia
Tel/Fax ++55 61 323 6538/ ++55 61 325 5740
e-mail hibsb@zipmail.com.br

Room Type
Price per night
Bed + Breakfast
R$30,00
From the Airport to the Hotels
In order to go to Hotel's south sector from the airport you should take a taxi. The price of a one-way ride is about R$35 (approx. US$17).
---
Touristic Trips:
If you want to know a bit more about Brazil and the Brazilian Cerrado the touristic agencies in Brasília can help you to organize some touristic trips for the weekend after the event. To have an idea of what you can find close to Brasília (in addition to the attractives of the city) take a look at the following links.
National Park Chapada dos Veadeiros: is located 230 km away from Brasília. Encompassing an area of 61.000 ha, it protects an important portion of the cerrado ecosystem in Brazil, with beautiful landscapes and falls. You may find some interesting photos in the sites below.

[1] (Portuguese) [2] (Portuguese)[3] (English) [4] (English) [5] (English) [6] (English)

Alto Pararaíso de Goiás: a small town close to the National Park Chapada dos Veadeiros ideal for for eco-tourism, with waterfalls, mountains, valleys and farms. It is considered one of the Brazilian esoteric sanctuaries of mysticism and spiritualism. Take a look in the links below.

[1] (English) [2] (Portuguese) [3] (waterfall) [4] (French)

Pirenópolis: a touristic city located 160 km away from Brasília and protected by the National Historical Patrimony (IPHAN) know by it's antique colonial architecture, houses, streets, churches and historical farms surrounded by mountains and valleys.

[1] (English) [2] Waterfalls [3] Touristic Attractions [4] More Photos
---
Last modified: July 27, 2001, 10:43:16 GMT-0300.