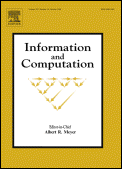 Abstract
The papers reviewed for publication in the volume are full versions (and fully reviewed) the contributions to the 14th Workshop on Logic, Language, Information and Computation held at Instituto Militar de Engenharia (IME), Rio de Janeiro, Brazil, from July 2 to 5, 2007.
From the Preface:
This special issue of Information of Computation consists of a selection of papers presented at the Fourteenth WoLLIC meeting, which was held in Rio de Janeiro, Brazil, from July 2 to July 5, 2007. Three of these papers are by invited speakers, and nine are revised versions of papers included in the WoLLIC'07 Proceedings (Springer LNCS 4576), themselves revised and expanded from the papers submitted to theWorkshop Program Committee. Thus, the latter have undergone three refereeing cycles.
Last Updated March 3rd, 2010, 10:53am GMT-0300.