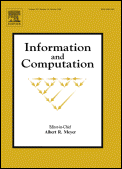 Special Issue of the Information and Computation (ISSN 0168-0072), Grigori Mints, Valeria de Paiva & Ruy de Queiroz (eds.), Elsevier, Volume 207, Issue 10, October 2009.
Abstract
The papers reviewed for publication in the volume are full versions (and fully reviewed) the contributions to the 13th Workshop on Logic, Language, Information and Computation held at the Center for the Study of Language and Information (CSLI), Stanford, California from July 19th to 22nd, 2006.


Last Updated September 22, 2009, 09:53am GMT-0300.